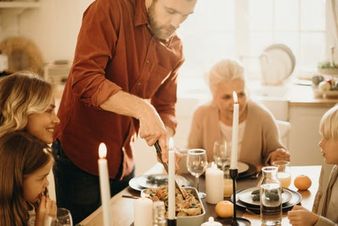 Tomas table offers three ideas for house celebrations in a free arrangement.
1.  The basic one is to read a text followed by silence for prayer. See

2.   A bit more solemn is to start with a song from youtube. Than read an inspiring text. Close with a prayer of thanks and a moment of silence.
3.   *  If you want to make a full celebration, light a candle.
      *  Sing or play a meditative song via YouTube
      *  Read "My silent as attached".
      *  Let somebody read some lines from the attached Charter
      *  Choose a parable or an inspiring story.
      *  Let somebody explain how the reading might be applied.
      *  Bread or crackers with coffee, tea, fruit juice or wine
      *  Thank God for those who are giving their life for us and for other people..
      *   A final song and extinguish the candle.